The Complete Book Of Scriptwriting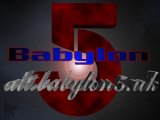 Intro:
Although not strictly B5 you may want to read this book either if you want to try writing a script or if you fancy reading the enclosed script for The Coming of Shadows - an episode of B5. This episode was a hugo award winner against Apollo 13 and Twelve Monkeys.
Title: The Complete Book Of Scriptwriting
Author: J Michael Straczynski
Published in the UK by: Titan Books
Covers: All areas of scriptwriting
Review:
This book is fully detailed and a delight to read. If you want to become a scriptwriter, buy it for sure - it's the most COMPREHENSIVE title available currently. If, however, you aren't so sure then read this review to see if you are.
I suppose I should start by making FOR and AGAINST sections.
FOR:
Classic B5 Script in the Back
Fully Comprehensive
Features Straczynski's Experiences
Excellently written with chunks of detail
Teaches you how to sell scripts as well
Enjoyable
Nice cover
Has included old sections of scripts and full synopsis
AGAINST:
Hefty price tag
Cover can get spoilt easily
Some parts aren't entirely explained so you have to read through the book in order (a huge minus for a reference book)
American script writing standards
You can't blame the last or the first two of the against points on Straczynski so ignore them for now. The only truly bad thing about the book which could have been avoided is the layout. It's okay if you are reading generally but for instance bits of Film require knowledge of the TV section... The first point can be withdrawn - for me it was hefty but it had a price tag of under £20. The cover is nice looking when it arrives but it took a week for it to become grey (I don't know how)... The American Script Writing standards is tricky. The UK versions of Word Processors use different measurements (PICAS isn't the same over here for some strange reason). To create MY synopsis: A good book with far more good points than negative ones. If you are planning on creating your own film from scratch (not just script), combine this with The Guerilla Film Makers Handbook (NOT written by JMS but by two British film makers) for a complete guide to the film industry.
A Mark? 9.9/10 (just say 10 - Okay?)
---
© Andrew Brack 1998